We're still a little ways away from Hanukkah, which starts on December 18th this year, but it's never too early to start filling your calendar with events for the eight-day Festival of Lights. It's the perfect time to celebrate with loved ones, and we've rounded up all of the Hanukkah events happening in North Jersey. Plus, we also included a few places that are offering holiday treats. Whether celebrating with a family with toddlers or a group of friends, there's something for everyone listed below. Here's wishing everyone a Happy Hanukkah!
Events
8 Nights of Hanukkah with Yo La Tengo
December 18th – December 25th | 7:30PM
Indie Rock Band 'Yo La Tengo' will bring its traditional Hanukkah Run to Bowery Ballroom in New York City over the eight nights of the holiday starting Sunday, December 18th to Sunday, December 25th. This tradition originally started in 2001 at Maxwell's in Hoboken and continued through 2012 with a pause since then – until this season. Each concert will feature a surprise opener and comedic performance before the trio takes the stage. For more information click here.
Hoboken Menorah Lighting + Chanukah Gelt Drop
December 18th | 5PM – 6PM
Hoboken City officials and the Chabad Jewish Center of Hoboken and Jersey City on Monday for the annual menorah lighting and Chanukah gelt drop. The festivities will take place outside City Hall. Learn more here.
Read More: Holiday Pop-Up Markets + Events in North Jersey | 2022
Roseland Menorah Lighting Ceremony 2022
December 18th | 6:15PM
Mayor James R. Spango and the Roseland Borough Council are hosting a community Menorah Lighting, music, singing, and refreshments in Roseland. For more information click here.
Montclair Chanukah Fest + Grand Menorah Lighting
December 20th | 5:30PM
This is an evening featuring the Orthodox Jewish, all-male acapella group, Maccabeats live in concert. Witness the lighting of a giant, nine-foot Menorah and relish treats including doughnuts, hot latkes, and more. For more information click here.
USH Community Shabbat + Hanukkah Dinner
December 23rd | 6:30PM
United Synagogue of Hoboken is hosting a community dinner for adults + children, with fried chicken and latkes on the menu. For more information click here.
The Annual Chanukah Soiree
December 20th | 7:30PM
The Chabad Young Professionals of Hoboken + Jersey City community is hosting an event for young Jewish adults at W Hotel. The event includes a Menorah Lighting, an open bar, a sushi bar, and a latke + doughnut station. For more information click here.
Friends Trivia "The One with the Holiday Armadillo"
December 20th | 8PM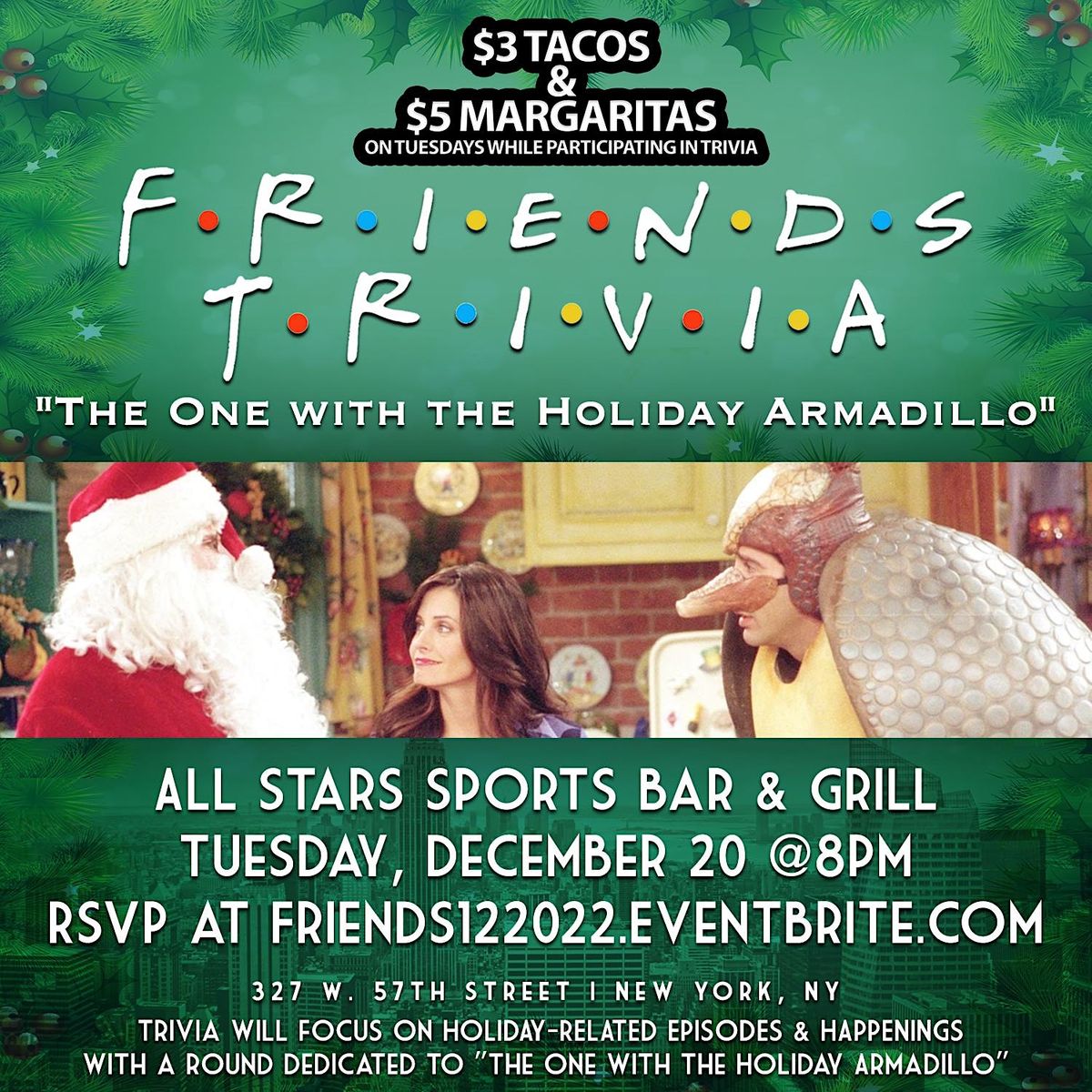 This Friends trivia night will consist of holiday-related episodes and happenings across all 10 seasons with a round dedicated to the episode, "The One with the Holiday Armadillo." For more information click here.
SOPAC: The Hanukkah Holiday Concert
December 21st | 7:30PM
SOPAC's Nefesh Mountain Hanukkah holiday concert will be presented at Temple Sharey Tefilo-Israel in South Orange, NJ. Nefesh Mountain melds elements of Americana, Appalachian Bluegrass, Celtic Folk, and Jewish music. Together with their band, this Montclair-based couple Doni Zasloff and Eric Lindberg have given a voice to Jewish-American culture. For more information, click here.
Treats
Michaeli Bakery in the Lower East Side, NYC is back with its special Hanukkah delights in a wide range of flavors. Find out more here.
See More: A List of North Jersey Winter Festivals
A menu consisting of more than twenty Hanukkah preparations including the famous potato latkes, chicken soup with matzo balls, and braised pot roast. For more information click here.
Liv Breads | 275 Essex Street, Milburn
Liv Breads gives the traditional sufganiyot a healthy twist by filling baked brioche buns with strawberry jam, dulce de leche, or Nutella. For more information click here.